The Egg-cellent Easter Adventure (book audio download)
Egglo Treasures Scripture Scrolls
and a wonderfully put together
The Egg-cellent Easter Adventure Program Guide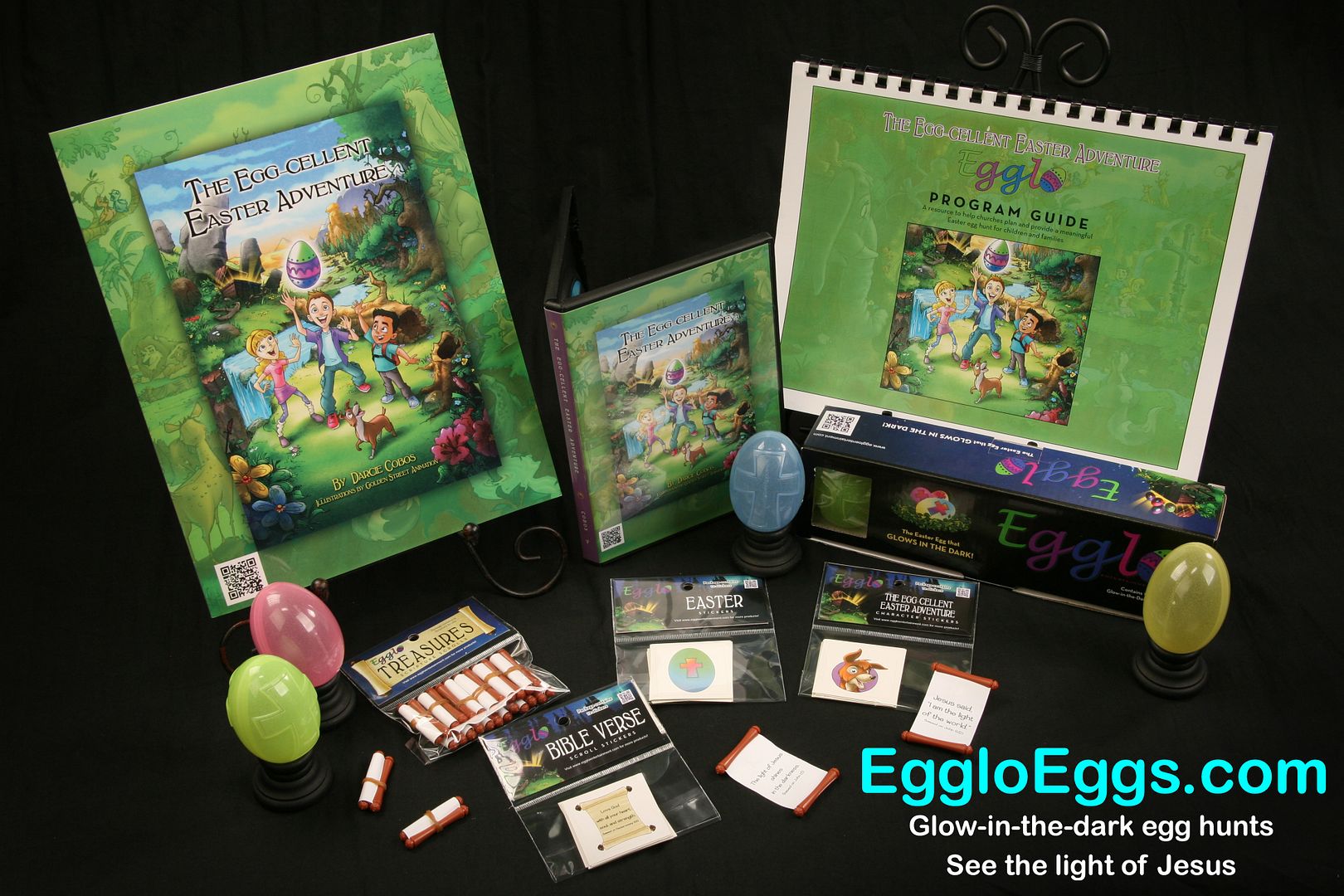 You guessed it! Awesome plastic eggs that do indeed glow when charged with light. My girls enjoyed seeing the eggs glow after dark.
We had a blast using these eggs for a night time hunt. I had fun hiding them and my girls in turn had fun finding them. We used them just like one would use Easter eggs during Easter. However, instead of being filled with candy, we filled ours with wonderful
Egglo Treasures Scripture Scrolls
. My girls had fun rolling out the scrolls and reading God's word. Both the eggs and the scrolls really helped keep the focus on Jesus. I loved that, a lot!
One evening it was to cold to have an outside hunt. While my girls were playing upstairs, I hid the eggs in the living room. It wasn't yet dark, and I wondered if they would see them before they could glow. They didn't. It was great to see there eyes light up, when they walked into the living room and saw that first glowing egg. A hunt ensued. After they were all gathered up, my husband sat down with the girls and they opened all the scrolls and talked about each verse.
The Egg-cellent Easter Adventure is a wonderfully illustrated children's book that connects the Easter egg hunt to the gospel of Jesus.
The Egg-cellent Easter Adventure (book audio download) is the audio book version that compliments the book. Chimes cue when to turn the page. This helped my daughters follow along and I feel it does indeed help develop reading skills.
We very much enjoyed the story and spent a good amount of time talking about the characters and what they learned on the course of their adventure. I wasn't surprised my girls loved the story so much, as they all rather enjoy a great story and that it is. A great adventure story that encompasses great values and the love of Jesus. A must read for children in my honest opinion.
In one section of The Egg-cellent Easter Adventure book, it shows the characters all touching an egg at the same time. My girls thought what happened when they did this was pretty neat. You'll have to read it yourself to know what happened. I don't want to spoil it for you. Below is a picture of my girls acting that particular part of the book out.
We decided to create our own character puppets to finish acting out the story. This was a lot of fun and it showed me just how much my girls had retained from the story. It was honestly precious to see them play and act out the story. I'm always up for a good puppet show. We were able to find the coloring pages to make the puppets in the
The Egg-cellent Easter Adventure Program Guide
. I was unable to find any popsicle sticks, so we opted to use pipe cleaners taped to the back instead.
A 60 page step-by-step curriculum guide that is designed to help churches or individuals put on a unique glow-in-the-dark Easter event. This awesome curriculum guide includes:
How-to instructions

Visual aides

Activity ideas

Decoration ideas

Theme snack ideas

Printable discussion cards

Invitations

Decorations

Coloring activity pages

Bible verse scroll cut outs

Cross Easter egg cut outs
Since the curriculum guide is available by download, you can print as many resources as you would need.
There seriously is so much great content in this guide. We had no problem finding ideas to use the products.
What did we love the most about Egglo Entertainment products?
The theme! The theme throughout all of their products is: Jesus is the light and the light shines in the darkness. Very fitting for glow-in-the-dark eggs.
We loved all the products, so it makes it hard to narrow it down to a favorite. I must say that as a mother I really enjoyed the The Egg-cellent Easter Adventure story. It was refreshing to read a children's Easter story that was solely focused on the love of Jesus and didn't make mention of the Easter bunny.
My daughters however tell me their favorite was the Glow in the Dark Egglo Eggs. This didn't really surprise me. We did have a lot of fun with them. The message taught along with them is great and I admit they are pretty beautiful the way they glow in the night.
What do these awesome products from Egglo Entertainment cost?
Glow in the Dark Egglo Eggs
- You will receive 12 eggs in each box. -
$11.99