Hello Friends! Is science a subject you have trouble teaching? Well, if you are anything like me, than it can be a tricky subject at times and sometimes even a little stressful. I am so thankful that I recently had the opportunity to review
Amazing Science, Volume 1
from
ScienceandMath.com
. These amazing DVDs made learning fun and teaching science less stressful. My daughters and I were able to learn so much science while completing fun hands-on experiments! The title is accurate, it truly is amazing science.
What is Amazing Science, Volume 1?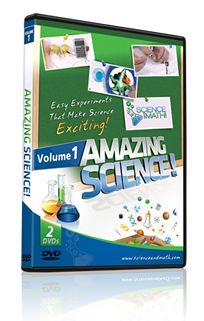 Amazing Science, Volume 1
is two DVDs
from
ScienceandMath.com
that together feature 23 fun and exciting experiment demonstrations! While watching these DVDs and participating in the experiments you learn about heat, electricity, magnetism, chemistry, physics, and much more!
Each demonstration explains every concept in easy to understand terms and lists each material needed to complete the experiment. We were able to easily find many of the materials in our home!
Amazing Science, Volume 1
is recommended for grades 1-3, but can be used well above that. My daughters are in grades 2nd, 3rd, and 5th and they each enjoyed it equally.
The first thing we did was load the DVD into the player and scan through each demonstration, to compile a list of materials that would be needed to complete the experiments. As I mentioned above, we found most materials around the house. We did however have to run to the store to make a few non-expensive purchases.
All 23 experiments looked so fun and I knew immediately after viewing the list of them, that we were going to have so much fun.
Before we would start a demonstration, we would gather the materials needed for the particular one we were going to watch and lay them out to be used as needed. This helped, as we didn't have to pause to search for items.
The day we received
Amazing Science, Volume 1, we were so excited to start that
we gathered together in front of the television and began our hands-on science journey. A journey that I did not anticipate would be so fun. We watched, full attention, the first demonstration and completed the experiment. All it took was that first demonstration and we were hooked. My girls were having so much fun learning science, I'm surprised I was able to turn it off when we were finished that first day.
We started spending three nights a week gathered around, completing each experiment, learning more and more each time. It was always a lot of fun and never seemed stressful. I contribute knowing exactly what was always needed, each experiment being fun, and the processes being explained step-by-step, to taking my stress away.
There are many things to love and each is important, but I first wanted to share the greatest thing I personally loved about reviewing
Amazing Science, Volume 1
. I loved the time we spent as a family watching, learning, and laughing. My family absolutely loved these science DVDs. My husband really loved them as well and was always a part of watching and completing each experiment with his girls. I not only felt that we were learning science with these DVDs, we were also spending great quality family time.
I wanted to add, that even though we opted to complete the experiments together, I do feel like this is a DVD that can done independently. Although, there are areas in the DVD that indicate supervision may be needed. Examples: using a lighter, matches, ect.
My girls loved how the instructor, Jason
Gibson, was so thorough when explaining the process of each experiment. He explained each process step-by-step and they were never left wondering why or how something worked. I honestly can't say enough about how great I thought he did explaining everything. Jason truly has a gift for teaching in my opinion. The camera views were also a nice touch to be able to see every process up close.
Lastly, we loved how how fun each demonstration was and how easy each experiment was to complete. We had a blast trying each experiment and discussing the results. It was so hands-on and had my girls
excited about science in a way I had never seen before.
Amazing Science, Volume 1
has a suggested retail price of $24.95, but is currently available for
$17.95.
Friends, that is a 28% savings and an amazing price for such quality science lessons.
Check out
ScienceandMath.com
and be sure to sign up to get free science and math videos delivered directly to your inbox!
Click below to read more reviews