Hello friends! Are you a fan of art?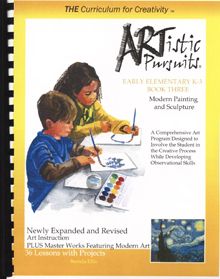 Today I'm excited to share our newest review with all of you.
My daughters and I recently had the opportunity to review
Early Elementary K-3, Book 3: Modern Painting and Sculpture
from
ARTistic Pursuits
. I'm so glad that we did. This review was a blast. My daughters love art and crafts so the
Early Elementary K-3, Book 3: Modern Painting and Sculpture
book was perfect for them.
Early Elementary K-3, Book 3: Modern Painting and Sculpture
is an art curriculum book written by Brenda Ellis and published by
ARTistic Pursuits
. It features 36 amazing art lessons that focus on modern art compared to earlier works of art. The book guides students to create meaningful art from their own ideas. Much of the books focus is on the art movements that had a great influence on our culture. There is a materials list found at the beginning of the book and it can be found on their website as well
.
Each lesson includes art by a featured artist or movement and explains different styles and processes. I was thoroughly impressed that each lesson asked questions that prompted my child's imagination and inspired a creative attitude in them. I felt that my daughters weren't learning to copy artists but instead learning different forms and styles from the lessons and creating their own works of art.
Before even starting the book, I reviewed over the materials list and gathered the materials we would need. I was able to find some in our home and I purchased the rest of the materials at our local hobby lobby store. We used this book several times a week. We tried to stick to only completing a lesson a week, but sometimes we completed more than one. Each time we opened it, I felt that we were in for a real treat. Have you ever got ready to start a curriculum, only to feel like you dreaded even doing it? Well friends, this was not the case with this book. We always knew that we were going to have fun when we opened it and were always excited about learning new art techniques. I felt that the book offered a tremendous amount of explanation, which made each lesson easy to understand. Although, we did find some spelling errors and were left a bit confused in a couple spots, but it was nothing we couldn't skip over. When we would start a lesson, I would read out loud to the girls, we would then look at the pictures, and lastly I would ask them the questions. After the questions the girls and I would read over the project and they would create their own works of art. We loved that each lesson gave example pictures. This helped my daughters, to be able to see these. I always reminded my daughters that it was their own art they were creating though. They were learning the techniques and styles and I felt they needed those guidelines, but I never felt that there was any wrong way for them to do it. A couple times my oldest daughter would feel a bit frustrated because she felt that her art wasn't as good as the illustrations found in the book. She has always been a bit of a perfectionist and it really bothers her if she feels like something is not right. I always reminded her that her art was just as beautiful and that she was doing a great job. My other daughters, who aren't perfectionists, had an absolute blast completing the projects and always wanted to do more and more.
My favorite part of this curriculum was not having to prepare for each lesson. The lessons are laid out so well, that it's really refreshing to just be able to open the book and begin. A favorite for my daughters was just being able to be creative and also being able to use materials they had never used before, such as the oil pastels. The also enjoyed learning about techniques they had never learned before. Some of the techniques my daughters have learned so far are shading, blending, tinting, and sculpting. They are eager to learn more.
My daughters enjoyed the lessons so much, that I think we are going to stick with
Early Elementary K-3, Book 3: Modern Painting and Sculpture
until it is completed. We still have quite a few lessons to do and I know there are certain lessons that my daughters are really wanting to get to. I love that
ARTistic Pursuits
has a full range of curriculum available for all ages and I'm thinking about purchasing a few more different books for next year.
I do recommend having something to keep everything together. At the end of each lesson, we gather the supplies and put them in a container used specifically for our lessons. This has helped with clean up and also helped keep all the supplies handy for our next lessons.
This particular book can currently be purchased for $47.95 and is recommended for grades K-3. Also as I noted above, there is a material list in the book and some supplies will need to be purchased at an additional cost.

ARTistic Pursuits
offers curriculum for Preschool through High School, so there are many books to choose from. If you are looking for a fun art curriculum then I highly suggest checking their website and looking over the different options.
*******************