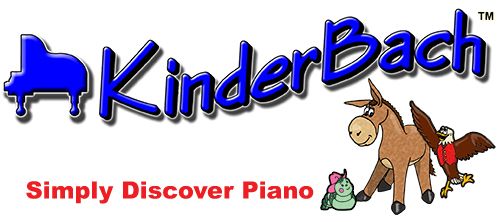 Hello Friends, My daughters and I recently had the opportunity to review The KinderBach Online Piano Lesson Membership with Teacher Corner. This was an exciting review for us. My girls had just received a new keyboard for Christmas and they were very anxious to learn how to play it.
So What exactly is Kinderbach?
KinderBach
is an excellent hands-on online music lesson program geared towards ages 3-7, but can be used by those slightly below and above. My daughters are 7 and 9. I have to say my 9 year old enjoyed it just as much as my 7 year old. I even have a 10 year old daughter who gazed on and participated in her own way, mostly by cheering on her sisters and offering praise.
KinderBach
offers 6 levels of music education. Each level breaks down the various tasks and techniques of playing the keyboard and separates them into easy to learn child portions. Learning is gradual and child-paced. In addition
KinderBach
uses fun characters to teach ideas, making the process not only entertaining but educational as well.
So what exactly do I love about KinderBach, you might be wondering?
There is so much to love about
KinderBach
, but two of the things I love the most is how wonderful of a job it does teaching and the NO traveling. We can wake up in the morning and begin lessons or we can wait until the evening. There is no rush around, trying to get out the door to be on time. As a homeschooling mom of three, I can truly appreciate the
ease of use this program has to offer. I have joined the girls many times in the schoolroom for lessons in pajamas. Ha! I love the convenience. I have wanted to put my girls in piano lessons for many years. I can honestly say, that this program is just what we needed to fit our needs.

I also want to add, that I have no piano experience at all, so I was wondering just how much I could help. I was quickly put to ease with the help of a wonderful parent's guide that is included. I can even say now, that I have learned quite a bit along side my girls.
I also love the fact that I can easily access and print all the PDF's that go along with the lessons. There is no wait for materials to arrive. They are available immediately as you need them.

I found that printing them all out at the beginning of lessons, has proved to be easier than waiting until they have needed them. I made this mistake in the beginning and have since found it easier to have them all ready to go as they are needed.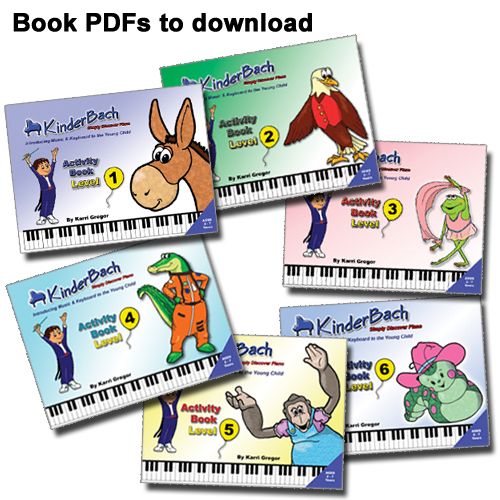 \
KinderBach is a child-paced program and I appreciate the fact that the lessons are never overwhelming for my girls. They are able to go at their own pace and the detailed examples and games presented in each lesson truly help them understand what they are learning. If they feel, they might have missed something, they have to opportunity to go back and do the lesson again. This proved to be extremely helpful.
While I do believe this program is a program that can be done independently, I think that much more is learned when a parent and/or guardian is available to help and offer input.
The graphic below, is a great example of the close up detail you will find in the lessons.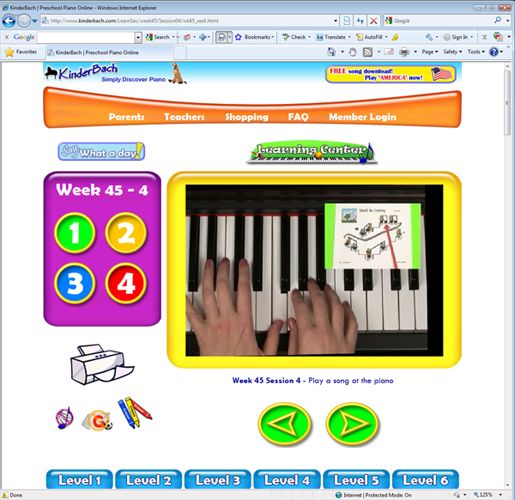 What does a typical day of using KinderBach look like for us?
Easy answer....Fun!
We have been doing the lessons about 3 sometimes 4 times a week for about 6 weeks now. The differences in what my children can do on their keyboard now from the beginning is night and day. They really moved quickly within the program, much to my surprise. We usually spend no more than an hour and no less than thirty minutes on the days we do the lessons. Like I mentioned above, I like to have all worksheets ready to go, so they will have them as they need them.
My girls use pots, pans, and spoons from our kitchen, as rhythm instruments. They have thought that was pretty neat and fun. I also got a kick out of watching them interact with the characters used in the program.
The characters used in the lessons have really captured my 7 year old's attention. She really likes one particular character named Dodi the best.
The picture above is my 7 year old, having fun in one of the beginning lessons. This is another thing I love about
KinderBach
, the fact that my children were able to interact physically with the program.
Are you wondering what you get with membership and what it all costs?
With membership you have access to
6 levels of entertaining music education. Which is over 240 sessions! Yes, over 240 sessions! The best part, is that these sessions can be accessed from a Computer, iPad, Android Tablet, Kindle Fire or Nook. You also have
access to all the PDF activity pages, story books, coloring pages and song books!
You will also have access to the Teacher Corner. In the Teacher Corner section of the website you will have access to materials for Levels 1 to 6. These include PDFs and Audio MP3s.
Right now you can access all of this for a
Special Limited Time Price of only $95.88 a year
. Friends, this works out to be only $7.99 a month for a year. In my opinion, this is a wonderful price for
fantastic lessons
in the comfort of your own home.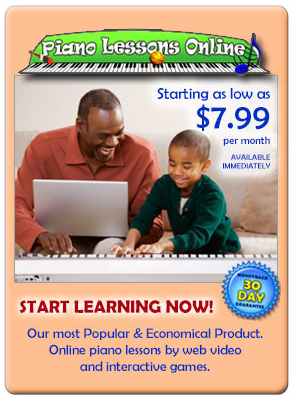 Well friends, as I mentioned above, I'm so thankful we had the opportunity to review KinderBach. We found KinderBach to be a real blessing to our family. Although my review is posted, we will continue using KinderBach the remainder of our trial period, because my girls have enjoyed it so much.
Thanks for reading our review and be sure to visit again, more reviews will be posted soon.
Twitter: @KinderBach
YouTube: KinderBach Preschool Piano
Want to know more about KinderBach?
Click below to read more reviews