Hello Friends, I have another really neat review for you today. I recently had the opportunity to test out a
Kraken A.M.S. Case for Amazon Kindle Fire HDX 7
from
Trident Case
. I was pretty excited about this review. If you read my blog, you have probably read about an unfortunate mishap we had with a previous Kindle I owned. If you haven't read about it, well, I'll tell you the short story. My youngest daughter always played with the Kindle and one day it slipped out of her hands, straight down to our hard tile floor and BAM! Cracked the screen! It was a real bummer. I was wishing I had protected it by purchasing a case. You live you learn, I suppose. Fortunately for me, after the mishap, my husband surprised me with a new Kindle Fire HDX. Shortly after receiving it, I found out I was going to be reviewing the
Kraken A.M.S. Case for Amazon Kindle Fire HDX 7
. Can you believe, I was super excited! I certainly didn't want my new Kindle to end up with the same fate as the other. I'm completely positive the outcome would have been different had I been using a
Kraken A.M.S. Case
.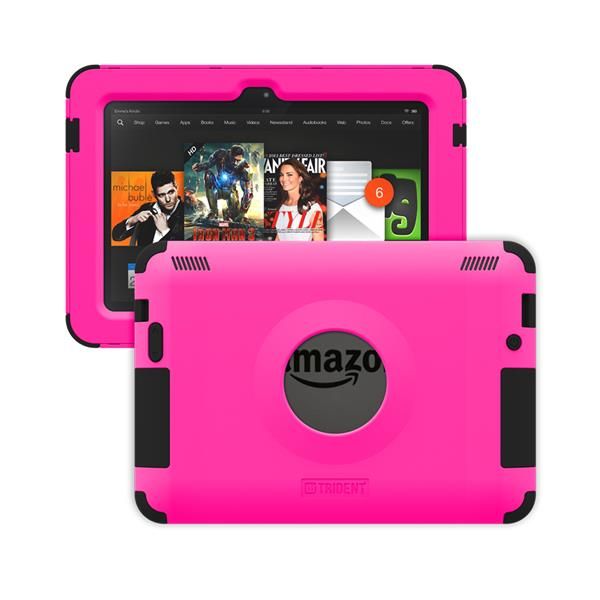 Well friends, the
Kraken A.M.S. Case
is the absolute strongest, most durable cases
Trident Case
make. The
Kraken A.M.S. Case for Amazon Kindle Fire HDX
features a shock-absorbing silicone inner layer, covered by a hardened poly-carbonate outer-casing, and a built-in screen protector that provides maximum protection. It includes patent pending audio technology that redirects sound to the front of the tablet. The case also has silicone plugs that help protect device power-ports, audio-jacks and speakers from dust, dirt and debris. The case also meets Military Standard MIL-STD-810F for Drop, Vibration, Dust, Sand and Rain. Talk about cool! Oh and another great thing is, it has hardened bio-enhanced plastic that is recyclable and degradable making it eco-friendly.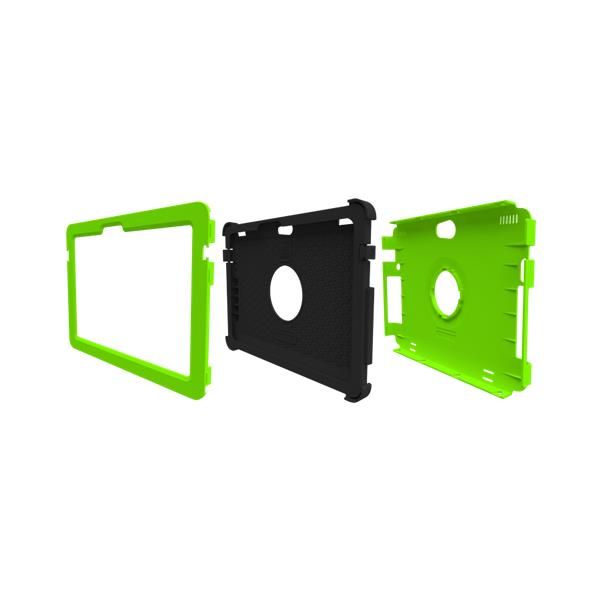 When the box came, I was like a kid on Christmas. I was truly excited about having a case to protect my beloved Kindle Fire HDX. I quickly opened the package and attempted to place the case on my device. For the most part, I was easily able to get it on. I did however struggle with some of the top snaps. I had to wait until my husband arrived home from work, to snap them together for me. He had no problem and was easily able to snap them together. Since, the accident of the other kindle, I had created a rule, that no one was allowed to touch my new one. I quickly changed the rule, once the
Kraken A.M.S. Case
was on. I figured the best way to test it, was to let my three daughters loose with it. I have to admit, sometimes it was hard to get it back from them, and I considered changing the rule back. I did however get to use it and I loved the case. Never having a case before, I wasn't exactly sure what to expect. I wondered if we would have problems with the touch screen, because of the screen protector. We didn't! I was pleasantly surprised on the ease
of use. I was mostly excited about feeling confident that if a drop was to occur, that it would be safe. As far as I know, we didn't have any drops. My daughter did consider dropping it once, just to test it out. I didn't think that was smart. Ha! I figure that more then likely a drop will occur and I'll be glad that it is so well protected.
What does the
Kraken A.M.S. Case for Amazon Kindle Fire HDX 7
cost?
You can currently purchase this awesome case for
$59.95.
You can also choose from an assortment of colors. The colors are cool in my opinion. They are very vibrant. I happened to choose a color called Trident Green. I love green and it was perfect. This case is designed for all ages.
Not in the market for a Kindle case? No problem!
Trident Case
offers similar cases for a variety of other tablets and smart phones.
We really loved the case and found that having it on didn't spoil the ease of use. I found it to be very well made and I thought the color I choose was vibrant and beautiful. I will soon be ordering a case for a new phone I recently purchased. I highly recommend having a case to protect your devices. Unfortunately, I learned the hard way.
YouTube -
http://www.youtube.com/user/TridentCase

***************************

Click below to read more reviews from the Schoolhouse Review Crew