Hello friends, When I was decorating the nursery for the arrival of my first born daughter, I was completely torn between a Peter Rabbit theme or Noah's Ark theme. Ultimately I chose the Noah's Ark theme, but it was a tough decision. I have always loved Peter Rabbit. That's why I was so excited to review the books,
The Tale of Peter Rabbit
and
Peter Rabbit at the Farm
from
Kinder Cottage Publishing
.
The Tale of Peter Rabbi
t
is a well crafted hardback adaption of an original book published by the Henry Altemus Company in 1917. Color illustrations are wonderfully preserved and the text is updated.
The Tale of Peter Rabbit
is the first of ten stories of Peter Rabbit published by
Kinder Cottage
.
I'm sure you probably already know how the The Tale of Peter Rabbit goes but in case you don't I'll share with you exactly why we love it. You see, Peter Rabbit is very curious and adventurous. One day Peter wanders off to visit a Mr. McGregor's garden after being told not to by his mother. His father had met his end at that garden. Do you think that was enough to keep ole' Peter from traveling on down there? Of course not! Curious Peter headed on down there and squeezed himself right under the garden gate. He found himself some food and eventually found Mr. McGregor. He, of course, wasn't wanting to meet him and a chase ensued. Peter Rabbit lost his shoes and jacket that day. After quite the adventure he managed to find the gate on out of there and find his way home.
It's such a wonderfully fun story and one my girls could listen to over and over. I also found that it's a great book for beginning readers. After listening to it, I actually lost track of how many times, my daughter was excited to give it a try herself. Proud mommy moment? You betcha! My daughter has a bit of trouble reading and it's always exciting when she finds interest in a book and actually wants to read it.
Peter Rabbit at the Farm
is yet another great story and one that I didn't even know existed. Yes, I love Peter Rabbit and even wondered to myself how I missed such a great story. In this story, Peter slips away when no one is looking and finds himself running down a path right into Pollie Possum. Pollie had just came from Mr. McGregor's farm and had been carrying persimmons before Peter slammed into her and knocked her down. Pollie wasn't pleased but Peter was sorry and picked the persimmons up for her. Pollie forgave him and ended up giving him one. His next adventure involves a goose that was having some trouble with a pond holding water. Peter nicely helped and got so excited about it he ended up going into the pond. In this story Peter find his way to the farm and meets several new friends. He once again has quite the adventure, still trying to avoid Mr. McGregor. He eventually finds his way home with the help of a crow.
Final Thoughts and Details
Both
The Tale of Peter Rabbit
and
Peter Rabbit at the Farm
are wonderful stories and I love how much my children enjoyed them. I really had a hard time not just spilling all the details but I really don't want to spoil the fun of reading them. I highly suggest adding them to your collection. I felt that they were not just wonderful stories, but that they are also great on building good moral character. I also loved that they were updated and that the illustrations were cute and full color. My daughters enjoyed being able to see the illustrations and I feel it helped capture their attention better.
These are ideal for ages 3-9, but I absolutely loved me a good Peter Rabbit story. Quite frankly, I believe them to actually be ideal for all ages. The first time I read
The Tale of Peter Rabbit
, I read it to my three daughters and my 82 year old grandma and my grandma loved it.
They are both hardback and 64 pages. They measure 7" x 5" and the text is of larger print, making them very easy to read.
I also love that
Kinder Cottage Publishing
offers 10 Peter Rabbit books. I feel embarrassed to admit this, being the fan I am, but I had no idea they offered more Peter Rabbit books. I'm sure I'm not the only one and now I'm just glad I know. I plan on purchasing the other 8 to make a complete set very soon.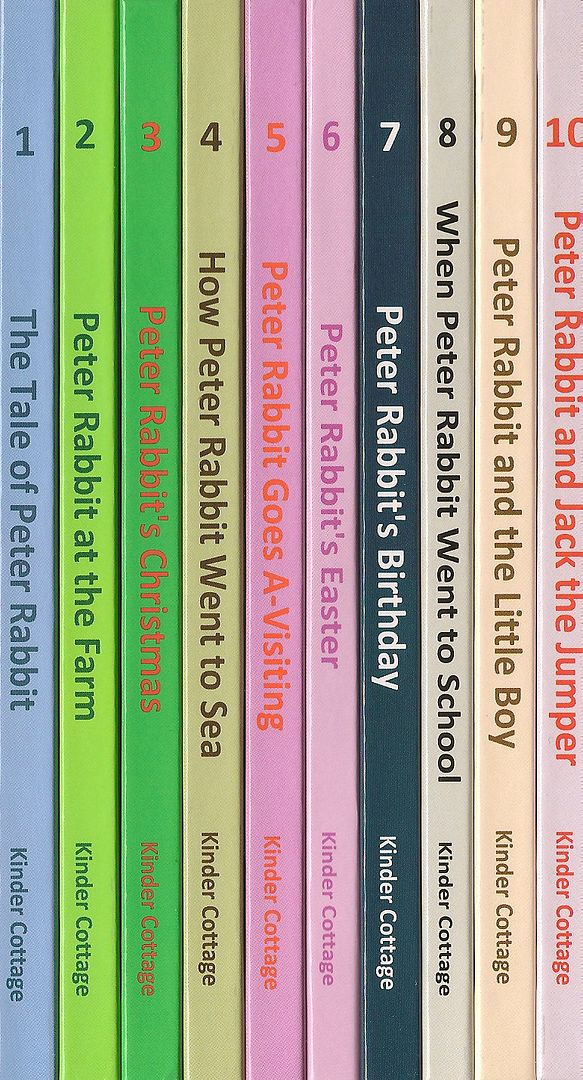 Click below to read more reviews from The Schoolhouse Review Crew