Science is important and in my opinion should be fun for students learning it. I'm really not that great at teaching it and have many times thought it would be super nice to have a science teacher available for my daughters and I. That's exactly what I felt I received when we recently reviewed Series 2 of the
Go Science DVDs
from
Library and Educational Services
.
Library and Educational Services
is a small family owned business, that has been operating for 35 years. They are wholesale distributors that sell to libraries, schools, homeschools, re-sellers, specialty stores, churches, missionaries, daycare centers, and ministry leaders. What I love the best is the materials they distribute are carefully selected to ensure they are in harmony with Christian values and morals. I feel this is very important and something that I'm very thankful for.
The
Go Science DVDs
are a series of 7 DVDs that feature fun and educational science
demonstrations hosted by a gentleman named, Ben Roy. Mr. Roy is a science teacher at the
University of Tennessee at Chattanooga and is the former director of a science program on television. His high-energy, fun teaching methods, and love for God truly make watching the DVDs not only educational but also highly entertaining. At the end of each
demonstration, Mr. Roy says "
Every time we learn something about science, we learn something about our Creator, God!" How true and powerful is that statement? I knew after watching the first demonstration that these DVDs were exactly what I wanted my girls to be watching.
They are recommended for ages
4-12.
We had the opportunity to pick 2 out of the 7 offered for our review.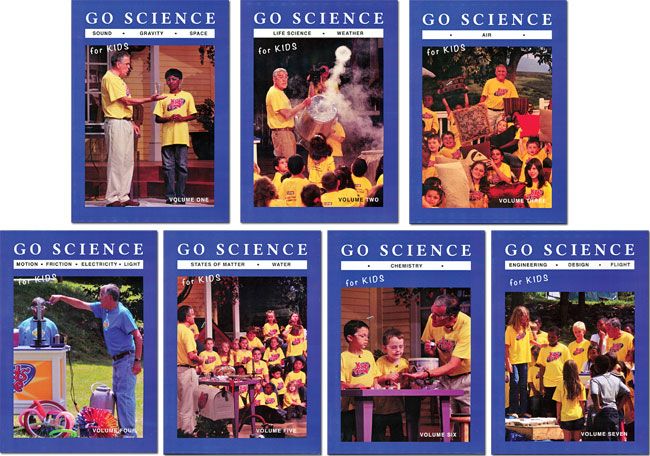 Volume 1: Sound, Gravity, Space
Volume 2: Life Science, Weather
Volume 4: Motion, Friction, Electricity, and Light
Volume 5: States of Matter, Water
Volume 7: Engineering, Design, Flight
We choose Volume 1: Sound, Gravity, Space and Volume 2: Life Science, Weather.
How we used Volume 1: Sound, Gravity, Space
There is a lot offered in Volume 1. My daughters had a blast watching it and often paused to recreate demonstrations they were watching. We had some giggles and some "Ah ha" moments while watching. We found that the demonstrations were quick but always on point. Mr. Roy has a gift of being able to teach science in such a fun, engaging way. I'm going to break down each demonstration offered and explain how it impacted us.
Piano -

In this video my daughters were able to visually see how the strings on a piano worked. We loved this one. We have a piano and my daughters thought it was neat to learn what was happening as they push down a key.
Screaming Pop Can -

My daughters absolutely loved this one. They had so much fun trying to get pop cans to scream. I had a blast watching as they attempted and even tried it myself.
Balloon with Nut - My daughters had to try this one and rushed around trying to find a balloon and a nut. In this video Mr. Roy takes a balloon and nut and is easily able to create a buzzing sound. The girls thought it was neat how the sounds would vary depending on the speed they were twirling the balloon.
Simple Telephone - This is the classic string and cup demonstration. One that we had done before, but one they were eager to try again. My daughters have always been

fascinated

by this one and I'm glad it was included.
Reuben's Tube - One of our favorites! We had never heard of a Reuben's tube prior to watching this DVD. I'm so glad this was included. Mr. Roy did a fantastic demonstration. Watching this one, prompted us to do more research about it.
Breaking Glass - Of course, I'm sure we have all heard of a lady singing and breaking glass. Have you actually seen it done? Well there was no singing, but

definitely

some high pitch sounds that did indeed cause glass to break. We didn't try this one, but we really thought it was neat.
Organ Pipes

- In this

demonstration

organ pipes are blown through to hear sound and one is attached to a balloon filled with helium. The girls paused and had fun

discussing

what they felt would happen.
Stick with String - This was fun and one that my girls also tried. Making sound with a string and stick by twirling it around.
Water Whistle - In this demonstration Mr. Roy creates a fun water whistle. My girls also tried this one and I thought it was pretty entertaining watching them.
Candle SeeSaw

- In this

demonstration

it was fun to see how the wax from a candle can cause a seesaw motion. Another one we didn't try, but I'm sure we will in the future.
Drop Book with Paper - If you place a paper on a book and drop it, will it fall at the same rate? I paused this one to ask my girls their opinions. It was fun to hear what my girls thought would and wouldn't happen.
Sun Golf Balls -

In this video the girls were amazed to learn the size of the earth compared to our sun. Mr. Roy does a

fantastic

job using golf balls to

demonstrate

.
Solar Bag - We didn't get to try this one, but we really want to. In this video Mr. Roy took a very long bag and tied one end closed. He then runs with one end and it fills with air to float in the sky. It was so big and very impressive to my daughters.
UV Beads - Another favorite. My daughters wanted to try this one really bad. I hope to be able to soon. In this video UV beads harness the power of ultraviolet rays to change colors right before your eyes.
Bang Barrel - Another we couldn't try at home, but wonderful as well. In this video Mr. Roy has taken a 2-liter bottle and filled it with liquid

nitrogen so that it will explode. A barrel is placed on top and the barrel flies into the air. Very cool!
As you can probably tell, we truly enjoyed watching Volume 1: Sound, Gravity, Space and couldn't wait to watch Volume 2.
How we used Volume 2: Life Science, Weather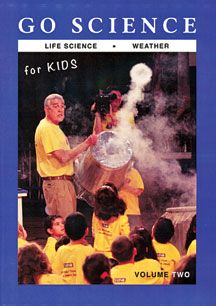 Another great DVD that offered a lot in the way of science demonstrations. I knew from watching Volume 1 that this was also going to be a wonderful DVD and was trilled to again be watching with my daughters learning fun, engaging science. Once again, I'm going to break down each demonstration and try not to give away to much.
Flashlight-Animal Eyes - Have you ever been driving down the road and your

headlights

meet the eyes of an animal? This is what is taught in this

demonstration

. The girls learned how spider eyes work along with many other insects and animals. I loved how he explained that God created them that special way.
Animal Skulls - My daughters were able to see the skulls of a beaver, bear, and bob cat. They learned about the

position

of the eyes in relation to being a prey or a predator.
Bobby Pins - This was about sense of touch and the ability to feel pressure on your hands and other parts of the body. He used the tips of bobby pins to apply pressure. The children had their eyes closed and had to guess whether one or two points were touching them. We gave it a try. It was neat to the girls, that they weren't able to get it right all the time.
What Are You Looking At? - Did you know that when you look at someone you tend focus only on the eyes and mouth? My girls didn't until this demonstration. Mr. Roy showed a picture and the children were easily able to identify who it was until it was turned. The reason being, because the eyes and mouth were upside down. My daughters really liked this one.
How Much Do Your Lungs Hold? - In this demonstration Mr. Roy was able to show how much air a persons lungs could hold by using an aquarium, a tube, and a jug of water. My daughters were surprised to learn just how much air a persons lungs could actually hold.
Eating Nails for Breakfast -

We loved this experiment! Mr. Roy took a bag of

cereal

flakes and placed them in a bag with a small amount of water. He mashed it up and placed a magnet inside. He then removed the magnet and washed it off and placed little iron

pieces

on a plate to show everyone how iron is in our food and how God has designed our bodies to need

certain

minerals, like iron. It was very neat to see this and the girls were surprised that we have iron in our food.
Naked Eggs - In this demonstration Mr. Roy shows how vinegar reacts with the calcium in the shell of an egg and how the vinegar slowly dissolves the shell. He also showed how after seven days, the shell is completely gone. I loved how he explained that calcium in our bones is needed to keep our bones good and strong. We had tried this experiment before and it was neat to see it done again.
Fire Tornado -

This one was pretty neat. Being from Oklahoma we have seen our fair share of tornadoes. However, we had never seen a fire tornado. He explained to the children how fire fighters have to fight fire tornadoes sometimes. He also explained about choosing our words because we don't want them to get out of control like a fire tornado.
Ping Pong Cannon - Another great one! In this experiment Mr. Roy used a pipe, a can, and a ping pong ball to show how a ping pong ball can go through a can. Mr. Roy vacuumed the air out from the pipe to make this experiment work. Then he put a hole in the end of the ping pong ball using a pair of scissors. The pressure of the air launched the ping pong ball with force. He joked with the children about being able to find money while vacuuming. This in turn made my daughters want to vaccuum. Wow! My girls were learning science and wanting to do chores! Yay, Mr. Roy! Pretty amazing for sure.
Liquid Nitrogen Cloud - This one was my daughters favorite. My oldest said "Mom! That was awesome!" Mr. Roy created a huge cloud using liquid nitrogen, a storage container, and hot water. The ending result was simply amazing for sure.
Cloud in a Bottle - In this demonstration Mr. Roy pumped air pressure into a bottle. The pressure heats up the air molecules. He was able to make a cloud form inside the bottle when he removed pressure and then made it disappear by pumping more pressure. He explained how it was like our water cycle. We plan on trying this one soon.
Garbage Can Vortex -

In this experiment Mr. Roy

filled a trash can that had a circle cut out on the end with fog. He had the children tap the bottom to create rings of smoke. They tried again, but this time using one that had a square on the end. My daughters thought a square smoke ring would appear. Mr. Roy explained how a square is not a strong structure in nature. He also explained how God made things round. The girls were intrigued to learn that a circle is the strongest shape in nature.
We absolutely loved the
Go Science DVDs
. I'm so thankful we had the opportunity to review them. These are DVDs that can be watched over and over. I love that we can use them again, when we cover something in the future. I also loved how God and a Christian lesson are included in every science demonstration. It was also great that we could participate in some of the experiments at home. I didn't have to purchase anything, because most items could be found at home. However, some of the experiments were more elaborate and not safe to try at home. We sure loved being able to watch them though and learn why a certain process was happening. Science truly is fun!
They are available to purchase for just $8.97 each. This is a fantastic price in my opinion. I feel that the amount of information and fun experiments make these well worth the price.
Not everyone on the crew received the same DVDs.
Click below to read more reviews from the Schoolhouse Review Crew.